Located on the left front body pillar
(Hyperlinked descriptors on this page lead to decoding tables.)

Use the diagram below to properly decode your original data plate. For trim code information, email us with the trim code at jerrysclassiccars@col.com and we will email back the original trim code description. Please be sure to include the model and year of the vehicle in question with your query!
<![if !vml]> <![endif]>

Model Year Code

<![if !vml]> <![endif]>

Consecutive Unit No. Code

<![if !vml]> <![endif]>

<![if !vml]> <![endif]>

Serial Number: D7FV109300

"D"

8 cylinder OHV Engine -- 312 cu. in. displacement -- 4 venturi carb

"7"

1957 Model

"F"

Assembled at Dearborn Plant

"V"

Victoria Body Style -- Fairlane or Fairlane 500

"109300"

Nine thousand three-hundredth car assembled
<![if !vml]>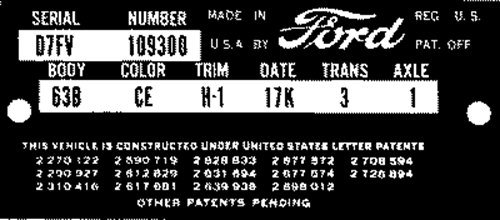 <![endif]>
<![if !vml]> <![endif]>

<![if !vml]> <![endif]>

<![if !vml]> <![endif]>

<![if !vml]> <![endif]>

Trim Deviation Code

<![if !vml]> <![endif]>
Style and Body Specifications (63B - CE - H - 1 - 17 - K - 3 - 1)

"63B"

Victoria -- Fairlane Tudor

*"CE"

Dresden Blue Lower Body, Colonial White Upper Body

"H"

Colonial Vinyl and Blue Tropical-Leaf Fabric Bodycloth

"1"

First Trim Deviation

"17"

17th Day of Month

"K"

Month of Year -- October

"3"

Fordomatic Transmission

"1"

Rear Axle Ratio of 3.10 to 1
*When vehicle is two-toned, the lower body color will appear first in the Paint Color Code space. For other information not listed please E-mail us at jerrrysclassiccars@aol.com